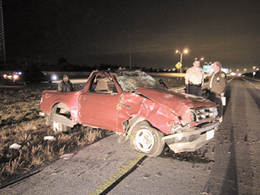 Texas City Sun Photo

One not-so-quiet Friday
By Michael Smith
Texas City Sun
Published January 12, 2003
For deputy Chris McCarvell Friday night, typically one of the busiest nights of the week, started off slow.
He passed the usual drug dealers meandering in front of their apartment complexes and favorite gas stations along state Highway 3 in Dickinson, and gave a ride to a woman walking home in the cold winter night.
At approximately 7 p.m. he took a man with a warrant out of Dallas to the Galveston County Jail after the man was stopped by Bayou Vista Police.
"It is kind of hit and miss on the weekends," McCarvell said. "I've had Tuesdays and Wednesdays when I've been slammed. And then I've had Saturdays when I didn't get one call. But that's rare. It's usually the other way around."
McCarvell said he likes his job as a patrol officer because of the endless variety of situations and characters he meets.
"Everyday it's something different," he said. "You never know what is going to happen."
At approximately 12:20 a.m. as McCarvell was pulling out of the Dickinson Police Department, having just placed someone in jail for traffic violations and possession of narcotic paraphenelia, he received a call about something no police officer wants to happen. An off-duty deputy had been involved in a roll-over accident along Interstate 45 .
With lights flashing and sirens blaring McCarvell's police car roared through the streets of Dickinson and onto I-45 south, to assist the deputy.
When he arrived he saw the deputy's Ford Ranger, roof smashed in, tired ripped off the rims and a distinct dent in the vehicle's right side where it had sideswiped a roadside sign.
It didn't take accident investigators long to learn there were two cars involved in the wreck. And from preliminary indications, and what they could get out of the deputy driving the truck, who sustained possible neck and head injuries, the other automobile had caused the accident and fled the scene.
Officers found pieces of the other vehicle including two steel gray, fiberglass, flip-up headlight covers they believed belonged to a Chevrolet Corvette, or Pontiac Firebird. They also found what appeared to be a streak of radiator fluid or motor oil coming from the fleeing vehicle.
A short time later Dickinson police received a call of an accident involving a blue/gray car which had smashed into a mailbox and careened into a ditch at the intersection of Hughes Lane and Commandant.
When they arrived they found a steel gray Nissan 280 ZX already on a tow truck. The ZX had severe front end damage, which included the loss of both headlight covers which were not found at the accident site. Much of the damage looked like it had not come from the mailbox or the ditch, but rather the rear of another vehicle.
Officers met with two witnesses who said they had seen the man involved in the accident. They said a small car, possibly a white Honda Accord, pick the man up and drive off with him. One witness said the man told him he lived only a few blocks away.
When officers checked the car's registration they found the owner indeed lived very close.
While the driver could not be located Friday night a DPS spokesman said had been located Saturday.
Alexander Byron Goshorn, 39, of Dickinson, was charged with felony failure to stop and render aid. At press time he was detained in the Galveston County Jail. Goshorn's bail is set at $10,000.
The jailer was sent to UTMB. He was released later that night.
Michael Smith is a Texas City Sun reporter. He may be reached at 945-3441 ext. 39 or by e-mail at: michael.smith@texascitysun.com