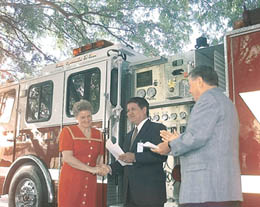 photo by Dwight Andrews Texas City Sun
Tribute to a hero Sandi Bethune shakes hands with Mayor Carlos Garza after he dedicates the new Engine 21 in the memory of her late husband, Capt. William Bethune as Texas City Fire Chief Gerald Grimm applauds during a ceremony before the City Commission meeting Wednesday. Capt. Bethune was killed in the line of duty Oct. 5, 1999.

City dedicates new firetruck
By Dale Dimitri
The Texas City Sun
Published March 21, 2001 11:56 PM CST
The Fire Departments new pumper fire truck was dedicated Wednesday in memory of Capt. William Bethune, who was killed in the line of duty on Oct. 5, 1999.
Bethune's wife, Sandi, was on hand for the brief ceremony where she announced she was donating $13,000 for the Texas City Fire Department to purchase a thermal imaging camera that will help prevent injuries and save lives.
Mayor Carlos Garza led the dedication, noting it marked the first time the city has dedicated a fire truck in memory of an individual.
"This is a very special occasion to recognize the longtime dedication and service of Capt. Bill Bethune," Garza said. "But this is a small gesture. We could never say thank you enough."
The pumper will be assigned to Fire Station No. 2 as unit "E-21." It bears a small plaque that reads: "In Memory of Captain William Bethune Who Gave the Greatest Measure of Devotion October 5, 1999."
Texas City Fire Chief Gerald Grimm also addressed the audience, which included Bethune family members, city commissioners, administrators and some citizens. "October 5, 1999 is a day I'm never going to forget. I lost a colleague and a dear friend."
Grimm applauded Sandi Bethune's thermal imaging camera donation. He said the equipment will help firefighters determine whether live persons are trapped inside burning or smoke-filled homes. Grimm said the equipment will help "save many, many lives."
Bethune, 58, lost his life when the fire truck he was riding in crashed into another car.
Grimm said the tragic accident was a reminder to many firefighters responding to emergencies of just how important it is for drivers to take precautions at intersections and for the firefighters to wear their safety belts.
Grimm said the accident probably could have been prevented had the driver of the car yielded to the emergency vehicle - which was operating its emergency equipment - and had the driver of the fire truck slowed down at the intersection to prevent a collision.
Read the NIOSH report on the accident here