Collision on FM 2004 sends three to hospital
By Scott E. Williams
The Daily News
Published November 27, 2002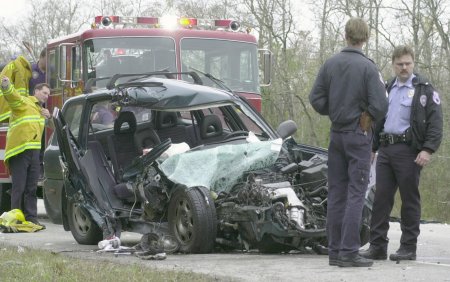 Texas City Fire, Station 3, A-Shift works the wreck.
TEXAS CITY — Three people went to a Galveston hospital, two via Life Flight helicopter, after a sport-utility vehicle crashed into a utility truck parked on the shoulder of FM 2004.
The wreck occurred shortly after 2:30 p.m. Tuesday, when a woman driving a sport-utility vehicle southwest about half a mile from state Highway 3 took her eyes off the road for a moment to tell her young son something, police said. When she looked back to the road, the woman saw she was headed for the parked truck, police said.
She swerved to miss the truck, but was unable to avoid hitting it, police said.
Her vehicle spun around and ended up facing north on the opposite side of the road.
The utility workers were laying down pipe alongside the road, and the impact of the crash caused one of the pipes to fly up and hit one of the workers. He went via ambulance to John Sealy Emergency Room in Galveston.
A Life Flight helicopter took the woman and her young son, a child who was sitting in the front seat at the time of the crash. The boy was briefly trapped inside the vehicle, but emergency crews rescued him.
He did not lose consciousness, but was screaming and suffered numerous cuts.
The three crash victims were being treated and evaluated at the hospital Tuesday night. Their names and ages were not available.