Mutual Aid House Fire
11-16-02

Station 1 & Station 3 responded to help LaMarque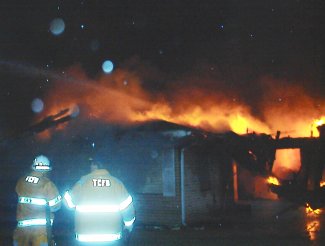 House in flames for second time
By Scott E. Williams
The Daily News
Published November 16, 2002
LA MARQUE — Arson probably was the cause of Friday blaze that gutted a house left vacant after having burned about six months ago, fire officials said.
The fire broke out shortly after 3 a.m. in the 800 block of Lake Road, Fire Chief Robert Buckner said. Firefighters arrived minutes later to find the house engulfed in flames.
"It was wall-to-wall flames," Buckner said. "It was probably totaled before 911 even got the call." Buckner said he was pleased that firefighters kept the flames from damaging buildings on either side of the house.
"The important things here were that no one got hurt, and these guys were able to contain the damage to this house," he said.
Three La Marque fire trucks responded to the fire, and the department got assistance from two Texas City fire crews. Buckner said the fire was suspicious and probably was set intentionally or by someone losing control of a small fire inside.
"The house was unoccupied and has been for a while," he said. "All the utilities have been disconnected." The same house caught fire in May, when a man and woman were living in it. No one was injured in that blaze, either.