Woman in motorcycle crash dies of injuries
By Scott E. Williams
The Daily News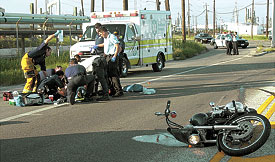 Texas City FD personnel work on the patient with her motorcycle in foreground.
Published July 21, 2002
TEXAS CITY — A Galveston woman died Friday night after crashing her motorcycle on FM 519.
The woman, 44-year-old Janell B. Jones, was riding her motorcycle south on Loop 197 when she got into the right turn lane to go west on FM 519 about 6:30 p.m. Friday, police said.
Jones apparently lost control of the motorcycle while turning west. She hit a curb and flew into the air, landing about 80 feet away.
Jones, who was not wearing a helmet, was unconscious and barely breathing when emergency crews arrived.
Police blocked about half a mile of FM 519 in front of the BP facility to allow a Life Flight helicopter to land. The helicopter took Jones to a University of Texas Medical Branch hospital, where medical personnel attempted to revive her.
Those attempts were unsuccessful, however, and doctors pronounced Jones dead at 7:37 p.m. Friday.
County medical examiners said they planned Saturday to perform an autopsy to determine exactly what killed her.