1936 Mueller
I took me about a week to restore this hydrant.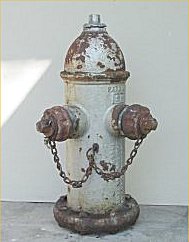 What the hydrant looked like when I got it.
After sandblasting and a coat of Ospho to take care of any rust.

Then came the white base paint.

I then painted the main body silver.


The cap was painted a deep red.

The base piece was broken when the hydrant was broken away from the pipe.

I also painted the caps red.

I highlighted all lettering in gold.

Brass cap which screws onto the top.
Finished 1936 Mueller
"Columbian Line"
This hydrant looks so much better in person as the
high gloss clear coat brings out the silver.