Texas City Explosion Disaster Films on DVD

This collection contains 2 movies and is 45 minutes of video.
Texas City Silent 1947
Silent film footage of the fire and aftermath of the disaster. See oil tanks burning, craters, and
overturned cars. Demolished warehouses, and the aid station. See the track of a car that was shoved
sideways from the blast.
Silent, B&W

Duration is 6:35
Texas City Disaster 1947
Film that covers the disaster and the aftermath, with narration. See the blast effects on the residential
area, and business sector. Note the demolished warehouses, other ships, and the sea crane. Hear the
litany of neighboring communities that rushed aid to the stricken city. See some of the relief work, and
camps for the residents and workers on the fire. Hear the numbers of dead and missing, and see the efforts
to embalm and Identify the remains. See the interviews conducted with the survivors, to gather information.
Watch as the remains are fingerprinted, and clothing is identified and kept with the body to aid in the
identification. See the fingerprints and dental records examined by hand to attempt the identification. Warning graphic scenes of the examination of a corpse, and body parts. Watch as one information packet is examined and the contents are listed. See x-rays of the bodies for additional identification information. See some of the remnants of the personal items of the deceased used in identification.
Sound, Color
Duration 36:44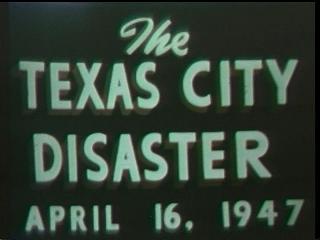 This DVD is shipped in DVD-R format. Although this format is playable by almost all modern DVD players or computer DVD drives we ask that you please check your player documentation or website to ensure compatibility. If in doubt e-mail me the name and model number of your player. We offer a 100% refund if there are any problems.
Please note that these films are by there very nature old. They have been transferred from 16mm film and some imperfections are to be expected.
Shipping is $2.00 first class shipping inside the US. Usually ships in 1 business day. This DVD is placed a scratch resistant sleeve and shipped in a bubble mailer.
Cost: $9.99