The Boats of Hurricane Ike
These are just a small percentage of the boats washed up on land from Ike that I took. It was unbelievable to see them everywhere. There are still quite a few sailboats sitting on the side of the roads around Galveston.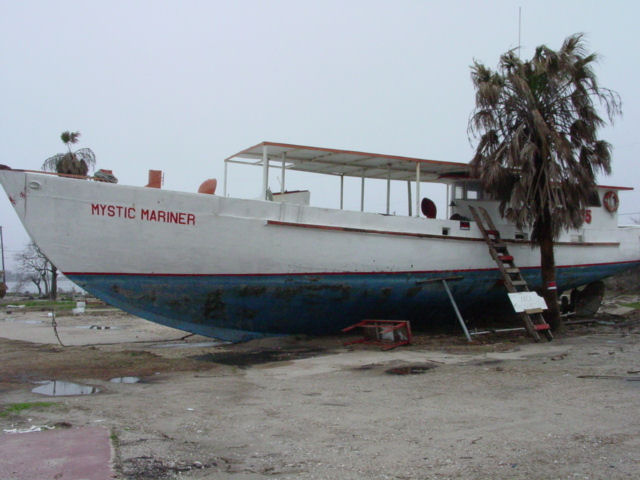 The Mystic mariner was put up for sale as it sat on land.
It was purchased and then moved back into the water where it sits again.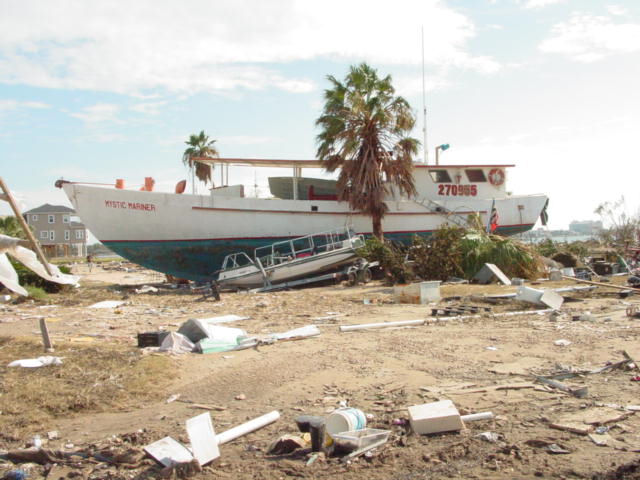 I took this photo the Monday after Ike hit
Boat washed ashore by Ike has new owners, home
By Chris Paschenko
The Daily News
Published December 31, 2008
GALVESTON: The 66-ton Mystic Mariner, one of the most visible of spectacles testifying to the immense power of Hurricane Ike's devastating blow to Galveston Island, is on the move once again.
For years, the 1953 sailboat, which was converted by a former owner to a fishing vessel, sat anchored in Offatts Bayou until Ike's landfall in Galveston thrust the boat ashore.
The slow, methodical process of returning the Mystic Mariner to the Gulf continued Tuesday, as the new owners seek to salvage the vessel, which is highly visible to Gulf Freeway travelers.
The Urbanovskys bought the boat because they couldn't refuse the asking price of which they asked to keep a secret. Then the labor-intensive challenge of maneuvering the vessel with crane and makeshift dollies about 50 yards back to Offatts Bayou.
Chris Urbanovsky, a sophomore Sea Aggie, said his dream was to turn the boat into his living quarters for his upperclassman years at Texas A&M University at Galveston until he graduates with a marine transportation degree.
His dad has a different plan.
Steven Urbanovsky's dream is to rebuild the mast and sail the Caribbean.
Tresa Urbanovsky said her husband's notion for the couples voyage in the open sea may just be only a dream.
Once my son gets his license, I'll get on it with him.