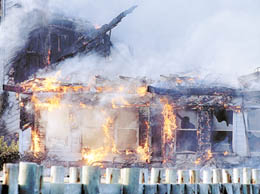 Photo by: Dwight Andrews
Firefighter pulled from fiery rubble
By Lora Bernard
Texas City Sun
Published January 10, 2003
Curtis Barber never realized he was sitting in a bed of fire.
"I don't remember that," the firefighter said as he sat on a grassy knoll while other firefighters finished battling a blaze that left him injured Thursday afternoon. "I just remember that it hurt and I couldn't get out."
The La Marque firefighter said he believed he had a sprained ankle after he became trapped when the Tiki Island condominium he was fighting to save crumbled around him.
The fire began at 3:15 p.m. Thursday. By the time it was under control, three units were destroyed.
When part of the condo collapsed a flaming wall crashed on top of Barber and he was knocked to the ground. His ankle was caught in rubble and he was trapped.
A few feet away, a retired policeman from Ohio and his friend from Tennessee were hauling hoses for the volunteer firefighters. They came to help after they saw the fire from their business.
Darrel Pelfrey and Chris Williams said they saw Barber sitting in a bed of flames and realized he was alone and trapped.
"He needed help," Pelfrey said. "That's all I thought about. He needed help. So, I just ran."
As they ran, they yelled for help and even as the words, "Man down," reverberated through the crowd, Pelfrey and Williams - who were not wearing protective gear - were inside the burning building frantically trying to free the trapped man.
The fire licked the men's shoes and melted a portion of Pelfrey's pants before another firefighter appeared to help them.
"We picked him up and got him out," Pelfrey said.
Afterwards, the men sat quietly near Barber as he rested and emergency workers taped his ankle. They didn't leave his side until he was taken away on a gurney.
"He needs to see a doctor," Williams said as the man disappeared among emergency workers and fellow firefighters who whisked him to the hospital. "He took a two-by-four on the head and he was engulfed in fire."
Barber never knew the men's names.
He introduced them to people on scene by saying, "These men helped pull me out."

Blaze claims Tiki condos
By Lora Bernard
Texas City Sun
Published January 10, 2003
Calan Gass entered his burning Tiki Island condominium Thursday afternoon.
When he emerged from the burning building he carried two parrots and a guitar. Everything else, he left to burn.
"I could have gotten more," he said seconds before the sound of the condo collapsing jolted him. He paused briefly and watched it fall.
"But, I needed to get the parrots."
The Gass condo was only one of three by a fire that raged through the building's roof. A total of six apartments were destroyed or damaged.
"You never think this will happen to you," he said as he went to move his pickup for firefighters. When he returned from moving the truck he had two T-shirts.
"These are all I have left," he said as he put them on.
At about 3:15 p.m. Thursday, Bayou Vista firefighters called for help from up to eight fire departments when the Gass condominium became engulfed in flames.
The cause of the fire was unknown Thursday. The investigation would continue today.
Gass and his older brother, Brandon, purchased the condominium along the village's main drag about six months ago after Brandon returned from college. A friend, Cliff Owens, lived with them.
They remodeled it and added a deck that overlooked the bay. Fresh paint completed the new decor and, at Christmas, their parents bought them new furniture.
By 3:30 p.m., all of it was destroyed by flames shooting so high that passers-by could be see them from Interstate 45.
At 4 p.m., the Gass condo collapsed and some neighbors began to cry as fire inched closer to their homes.
The thought of loosing an expensive Indian costume that had become a prized possession saddened one woman. Her husband, who only identified himself as Tim, consoled her. Then, his attention wandered to the thought of his pets that were still trapped inside.
"There are three cats in there," he said. "I wish we could have gotten them. But, I think cats are pretty hardy. I think they will know what to do."
By 4:15 p.m., the crowd was growing and police officers were ordering them to the nearby Teakwood Marina so a Galveston ladder truck could come in.
Less than an hour later, the Red Cross arrived.
Red Cross official John Combs and about half a dozen volunteers offered water and food to firefighters. He expected to stay with families until he was sure they had a place to stay. If they couldn't find a place, he would find them hotel rooms.
"If they can find a place in the complex that would be best," he said. "But if they can't, we will find them a place."
Despite the condominiums location on the bay, water was at a high commodity. The ladder truck, which could have doused the building, sat unused until La Marque firefighters dropped a hose into the bay and began pumping water to it.
The strong wind was also a force to reckon with as it pushed water away from the flames even as firefighters barreled several hoses at the burning roof.
At 5 p.m. Dickinson and Santa Fe firefighters were still arriving to help Jamaica Beach, Hithcock, La Marque, Galveston, Tiki Island and Bayou. They stayed until 8:30 p.m. when Tiki Island and Bayou Vista firefighters announced they would remain at the complex for the remainder of the night.
When the fire was under control at 5:30 p.m. Calan Gass was still trying find out when he could look through the ruins of his home. After a brief discussion with authorities he said he did not believe he'd be allowed to see it for several more hours.
Meanwhile, his father, Bobby Gass, who had raised the two beloved parrots from practically the moment they hatched, was playing with the one named Solomon in the parking lot. The other macaw, Gideon, was nearby.
"I named them after Biblical characters," he said. "The boys said they wanted them over here. They said it would be great for them to be over here in Tiki. So they were here."
Now, Bobby Gass said, the birds and the son who risked his life to save them would be returning home with him and his older brother.
"At least they are alive," he said.
Roof work possibly started fire
By Lora Bernard
Texas City Sun
Published January 11, 2003
TIKI ISLAND — Fire investigators said Friday that roofers who were making repairs to a condominium on Tiki Island accidentally started a fire that caused $480,000 worth of damage to eight units and injured a firefighter.
"There is no other explanation," said Tiki Island Fire Chief Randy Phipps.
La Marque firefighter Curtis Barber broke his leg after a burning wall collapsed and pinned him inside the condo where the fire started, said La Marque Fire Chief Robert Buckner.
Barber said Thursday he believed he'd just sprained his ankle.
The condominium that Calan Gass and his brother, Brandon, owned along Tiki Island Drive burned to the ground Thursday afternoon after a fire started in the closet.
The unit next to theirs was also completely destroyed. But, Phipps said the remaining six units, which had extensive smoke and water damage, could be repaired.
"It's remarkable that there were a lot of contents that were salvageable," he said. "Several televisions and computers were able to be saved. That sort of thing."
Firefighters were hindered during the battle because the complex had no firewalls to protect one unit from another, he said.
So, firefighters from eight departments battled the blaze from inside the units to stop it from spreading along the ceiling. Phipps denied there was any problem getting water to the fire.
"Despite the (reports) that we had problems with water, we didn't," he said. "We used 96,000 gallons on it."
He said he believed the six units that weren't destroyed could be repaired because much of the damage occurred when firefighters busted through sheetrock and walls to put down the fire as it crawled along the ceilings.
"But once we got it stopped in the ceiling, we were doing good," he said.
Phipps said Brandon Gass discovered the fire at about 3:15 p.m. Thursday when he opened an empty closet.
"They were making repairs over the closet because they'd found water damage in it, so it was empty," Phipps said.
Calan Gass was able to save two parrots that the family had since they hatched and a guitar.
Everything else burned.