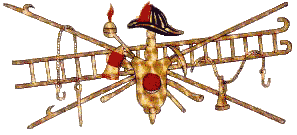 TCFD HISTORY
The Texas City Fire Department was chartered in 1911 as a volunteer organization.
In 1947 the Texas City Disaster took the lives of all 27 volunteer Fire Fighters except one. Soon after, the Department became partially paid with one paid Fire Fighter and his family living at each station. Civil Service came in 1955 and in 1956 Local 1259 was formed and the Department was transformed into a fully paid career organization.
Collective Bargaining was voted in by the Citizens in 1975. Kenneth Jones was the first Fire Fighter hired under Civil Service in 1955. In 1975 Kenneth was appointed to the Fire Chiefs position.
An Industrial Mutual Aid System (IMAS) was created to ensure adequate protection from industrial emergencies. The first City Fire Fighter to chair the IMAS was Chief Roy McKinney until his retirement in 1991. Retired Fire Chief of Albuquerque, NM, Gerald Grimm was called upon to take the Department into the 90's and beyond. With the hiring of Chief Grimm and the Cities Goals 2000 plan, the Department moved progressively into the future.
A Water Rescue Program was soon implemented, Emergency Medical Services Response (1st Responders) was put into place in 1992 to ensure adequate and timely pre-hospital care to those experiencing sudden medical emergencies. A Hazardous Materials Response Squad, High Angle and Confine Space teams were soon to follow.
The City along with the Texas City Professional Firefighters (Local 1259) incorporated the ambulance service into the department in 2009. The Department now runs three ambulances, one out of each station.
The Department operates out of three facilities, Central Station built in 1994, Station 2 built in 1995 and Station 3 built in 1999. The Department operates in 3 shifts with 66 line positions and 6 staff positions (Asst. Chief, Fire Marshall, Asst. Fire Marshal, Fire Investigator, EMS Coordinator and Training Officer) for a total of 72 personnel.
Transformation from a single dimension organization focusing primarily on fire protection services, has dramatically benefited our community and changed the face of our Department forever. The Texas City Fire Department is firmly committed to quality public service through versatility and will remain a vibrant organization comprised of highly skilled, dedicated professionals continually seeking "opportunities to serve our community as we enter the next millennium.
Be sure to read the story on the 1947 Texas City Disaster.