The Texas City Disaster
April 16, 1947
The morning of 16 April 1947 dawned clear and crisp, cooled by a brisk north wind. Just before 8:00 A.M., longshoremen removed the hatch covers on Hold 4 of the French Liberty ship Grandcamp as they prepared to load the remainder of a consignment of ammonium nitrate fertilizer. Some 2,300 tons were already onboard, 880 of which were in the lower part of Hold 4. The remainder of the ship's cargo consisted of large balls of sisal twine, peanuts, drilling equipment, tobacco, cotton, and a few cases of small ammunition. No special safety precautions were in focus at the time.
Several longshoremen descended into the hold and waited for the first pallets holding the 100-pound packages to be hoisted from dockside. Soon thereafter, someone smelled smoke. A plume was observed rising between the cargo holds and the ships hull, apparently about seven or eight layers of sacks down. Neither a gallon jug of drinking water nor the contents of two fire extinguishers supplied by crew members seemed to do much good. As the fire continued to grow, someone lowered a fire hose, but the water was not turned on. Since the area was filling fast with smoke, the longshoremen were ordered out of the hold.
While Leonard Boswell, the gang foreman, and Peter Suderman, superintendent of stevedores, discussed what action to take, the master, or captain, of the Grandcamp appeared and stated in intelligible English that he did not want to put out the fire with water because it would ruin the cargo. Instead, he elected to suppress the flames by having the hatches battened and covered with tarpaulins, the ventilators closed, and the steam system turned on. At the masters request, stevedores started removing cases of small arms ammunition from Hold 5 as a precautionary measure. As the fire grew, the increased heat forced the stevedores and some crew members to leave the ship. The Grandcamp's whistle sounded an alarm that was quickly echoed by the siren of the Texas City Terminal Railway Company. despite a strike by the telephone workers, Suderman, seriously concerned by now, managed to reach the Fire Department and then called Galveston for a fire boat.

Remains of a city fire truck


One of the last photographs taken of the Texas City Volunteer Fire Department crew before the explosion.
Marion "Jack" Donnis Westmorland with hard hat on directly behind the Chief.
Fire Chief Buamgartner center with hat on.

It was now about 8:30. At this point, growing pressure from the compressed steam fed into Hold 4 blew off the hatch covers, and a thick column of orange smoke billowed into the morning sky. Attracted by its unusual color and the sirens, several hundred onlookers began gathering a few hundred feet away at the head of the ship. Twenty-six men and the four trucks of the Volunteer Fire Department, followed by the Republic Oil Refining Company fire-fighting team, arrived on the scene and set up their hoses. A photograph taken at approximately 8:45 shows at least one stream playing on the deck of the Grandcamp, which was apparently hot enough to vaporize the water.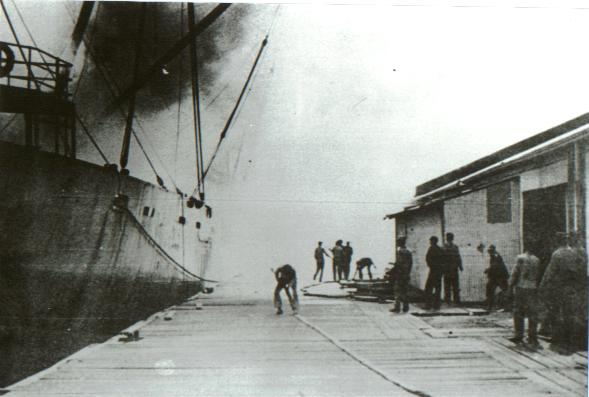 Firefighters spraying water on Grandcamps deck


Around 9:00, flames erupted from the open hatch, with smoke variously described as "a pretty gold, yellow color" or as "orange smoke in the morning sunlight...beautiful to see." Twelve minutes later, the Grandcamp disintegrated in a prodigious explosion heard as far as 150 miles distant. A huge mushroom like cloud billowed more than 2,ooo feet into the morning air, the shockwave knocking two light planes flying overhead out of the sky. A thick curtain of steel shards scythed through workers along the docks and a crowd of curious onlookers who had gathered at the head of the slip at which the ship was moored. Blast over pressure and heat disintegrated the bodies of the firefighters and ship's crew still on board. At the Monsanto plant, located across the slip, 145 of 450 shift workers perished. A fifteen-foot wave of water thrust from the slip by the force of the blast swept a large steel barge ashore and carried dead and injured persons back into the turning basin as it receded. Fragments of the Grandcamp, some weighing several tons, showered down throughout the port and town for several minutes, extending the range of casualties and property damage well into the business district, about a mile away. Falling shrapnel bombarded buildings and oil storage tanks at nearby refineries, ripping open pipes and tanks of flammable liquids and starting numerous fires. After the shrapnel, flaming balls of sisal and cotton from the ships cargo fell out of the sky, adding to the growing conflagration.

A man walks below the 150' LONGHORN II that was washed ashore by the tidal wave created by the GRANDCAMP exploding. The arrow points toward a destroyed city fire truck twisted together with another vehicle and a large section of the GRANDCAMP.
This is from one of many post disaster postcards.


Downtown business

The sheer power of the explosion and the towering cloud of black smoke billowing into the sky told everyone within twenty miles that something terrible had happened. People on the street in Galveston were thrown to the pavement, and glass store fronts shattered. Buildings swayed in Baytown fifteen miles to the north. The towering smoke column served as a grim beacon for motorists driving along the Houston-Galveston highway, some of whom immediately turned toward Texas City to help. In Texas City itself, stunned townspeople who started toward the docks soon encountered wounded persons staggering out of the swirling vortex of smoke and flame, most covered with a thick coat of black, oily water. many agonizing hours were to pass before a semblance of order began to replace the shock and confusion caused by this totally unexpected and devastating event.
| | |
| --- | --- |
| 150ft barge LONGHORN II in background washed onshore by tidal wave | AS SEEN FROM ACROSS THE BAY IN GALVESTON |

As the surge of injured quickly overwhelmed the towns three small medical clinics, the city auditorium was pressed into service as a makeshift first-aid center. Within an hour doctors, nurses, and ambulances began arriving unsummoned from Galveston and nearby military bases. Serious casualties were taken to Galveston hospitals and later to military bases and even to Houston, fifty miles away. State troopers and law enforcement officers from nearby communities helped Texas City's seventeen-man police force maintain order and assisted in search and rescue.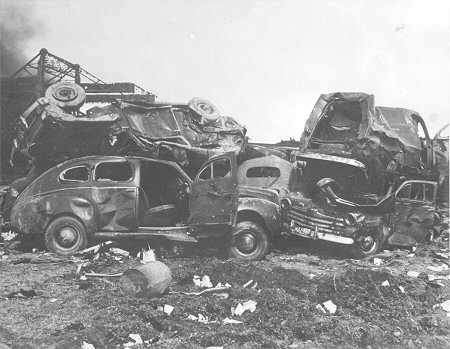 CARS PILED UP ON ONE ANOTHER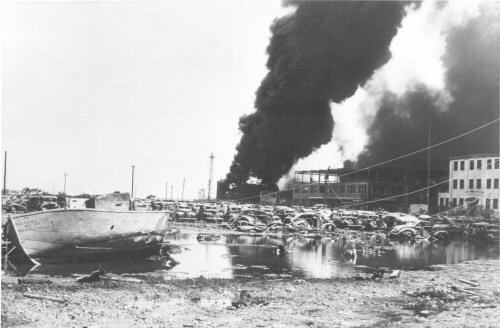 DESTROYED PARKING LOT AT MONSANTO CHEMICAL COMPANY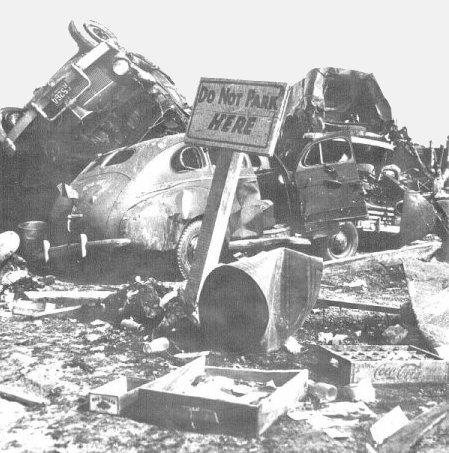 Sign Still Stands
A queer quirk of the Texas City explosion was found by Johnny Hendrickson, photographer for The News, in a tour of the devastated area Thursday. Stacked like child's tous are vehicles which were near the S. S. Grandcamp when it exploded Wednesday. The sign, left standing in the foreground is ironical. The vehicle, top right, was a Texas City ambulance in which a nurse and driver met death. Top automobile on left belonged to Father William Roach, killed when he rushed to the explosion area to administer to the dying.
The horror was not over yet. As help poured into Texas City, no one gave much thought to another Liberty ship tied up in the adjoining slip. The High Flyer was loaded with sulfur as well as a thousand tons of ammonium nitrate fertilizer. The force of the Grandcamp's explosion had torn the High Flyer from its moorings and caused it to drift across the slip, where it lodged against another vessel, the Wilson B. Keene. The High Flyer was severely damaged, but many of its crew members, although injured, remained on board for about an hour until the thick, oily smoke and sulfur fumes drifting across the waterfront forced the master to abandon ship. Much later in the afternoon, two men looking for casualties boarded the High Flyer and noticed flames coming from one of the holds. Although they reported this to someone at the waterfront, several more hours passed before anyone understood the significance of this situation, and not until 11:00 P.M. did tugs manned by volunteers arrive from Galveston to pull the burning ship away from the docks. Even though a boarding party cut the anchor chain, the tugs were unable to extract the ship from the slip. By 1:00 A.M. on 17th April, flames were shooting out of the hold. The tugs retrieved the boarders, severed tow lines, and moved quickly out of the slip. Ten minutes later, the High Flyer exploded in a blast witnesses thought even more powerful than that of the Grandcamp. Although casualties were light because rescue personnel had evacuated the dock area, the blast compounded already severe property damage. In what witnesses described as something resembling a fireworks display, incandescent chunks of steel which had been the ship arched high into the night sky and fell over a wide radius, starting numerous fires. Crude oil tanks burst into flames, and a chain reaction spread fires to other structures previously spared damage. When dawn arrived, large columns of thick, black smoke were visible thirty miles away. These clouds hovered over Texas City for days until the fires gradually burned out or were extinguished by weary fire-fighting crews.
| | |
| --- | --- |
| Another parking lot, no vehicles were spared | Ground zero on other side of fire and smoke |

The Grandcamp's explosion triggered the worst industrial disaster, resulting in the largest number of casualties, in American history. Such was the intensity of the blasts and the ensuing confusion that no one was able to establish precisely the number of dead and injured. Ultimately, the Red Cross and the Texas Department of Public Safety counted 405 identified and 63 unidentified dead. Another 100 persons were classified as "believed missing" because no trace of their remains was ever found. Estimates of the injured are even less precise but appear to have been on the order of 3,500 persons. Although not all casualties were residents of Texas City, the total was equivalent to a staggering 25 percent of the towns estimated population of 16,000. Aggregate property loss amounted to almost $100 million, or more than $700 million in todays monetary value. Even so, this figure may be to low, because this estimate does not include 1.5 million barrels of petroleum products consumed in flames, valued at approximately $500 million in 1947 terms. Refinery infrastructure and pipelines, including about fifty oil storage tanks, incurred extensive damage or total destruction. The devastated Monsanto plant alone represented about $ 20 million of the total. Even though the port's break-bulk cargo-handling operations never resumed, Monsanto was rebuilt in little more than a year, and the petrochemical industry recovered quickly. One-third of the town's 1,519 houses were condemned, leaving 2,000 persons homeless and exacerbating an already-serious postwar housing shortage. Over the next six months, displaced victims returned as houses were repaired or replaced, and most of those who suffered severe trauma appear to have recovered relatively quickly. What could never be made good was the grief and bleak future confronting more than 800 grieving widows, children, and dependent parents.
| | |
| --- | --- |
| House fire caused by explosion | City blocks destroyed |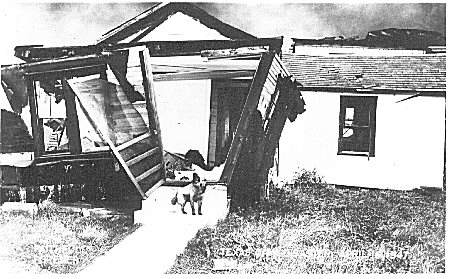 This dog like many animals waited for thier owners who may never return.

The burial service for the unidentified dead was held Sunday morning, June 22, 1947 at 10:00 A.M. Despite the fact that there was very little advance publicity, cars were park a mile and a half up and down the highway, and the crowd was estimated at 5,ooo. The sixty-three caskets were brought from Camp Wallace by separate hearses from fifty-one participating funeral homes in twenty-eight cities. It was a striking procession, probably the longest in the history of funeral services. Each casket was carried by pallbearers from the American Legion, V.F.W., Labor Organizations and Volunteer Firemen. Each was decorated with a spray of flowers, gifts of the Florist Association.
In this small plot of ground, at the time of the service only a scarred prairie, were placed the remains of sixty-three unidentified dead, each in its own casket, each in its own lined grave~numbered and recorded so that if a new inquiry were ever necessary the information would be available. No one else ever has ever been buried in this cemetery; no one else ever will be. It stands as a resting place for those unidentified, and a memorial for all those who suffered during that time.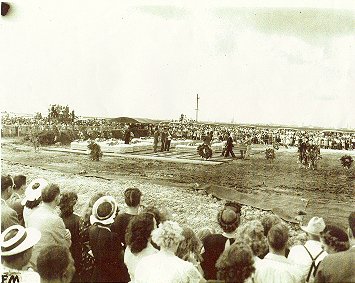 Funeral service, over 5,000 attended

The Memorial Cemetery in Texas City is located on the northern edge of town, where Loop 197 joins Twenty-Ninth Street. It still resembles the 1947 landscape design by Houston artist Herbert Skogland but is not identical to it. Before the 1991 enlargement it was a grassy plot, roughly two acres in size and surrounded by a stone wall. It was presided over by an angel of Italian marble. The stone pillars on either side of a wrought iron gate were simply inscribed "Memorial Cemetery Texas City 1947." Inside remains a rectangular grassy lot with a oval pathway inside. In the pool, in a small concrete circle, stands the marble angel, her eyes downcast and her fingers perpetually strewing a marble flower. The base is inscribed "Texas City Volunteer Firemen."
The bodies were buried in three neat rows on either side of the pool, inside the oval. Each site was originally marked with a piece of granite bearing a number which links it to a paper listing everything known about the human being who lies there. In the years between 1947 and 1991 when the cemetery was enlarged and refurbished as a WAR AND PEACE MEMORIAL, many of the small markers were lost, moved, or buried in the thatch grass. When the cemetery was enlarged, the remaining markers were relocated within a brick wall. Thus, it is that now the remains are truly anonymous, known only to God.
Who then is buried in the little cemetery? No one will ever no for certain, but among the missing are nineteen members of the Volunteer Fire Department, thirty-one members of the crew of the Grandcamp, and several school children who had been on the pier watching the fire. Also among the missing are Victor Wehmeyer, the funeral director; H.J. Mikeska, President and General Manager of the Texas City Terminal Railway; longshoremen; employees of Monsanto, Republic, and the Texas City Terminal; sightseers; and others whose fate it was to be in the plant or on the dock that day.
---
Read the Texas City, Texas, Disaster Report.
This report was put out on April 29, 1947, 13 days after the first explosion and is complete with photographs.
Monsanto Letter pertaining to a check written for membership dues to the Texas City Volunteer Fire Dept.
---
The Link below has 100's of disaster photographs that are currently being digitalized. These were photographs that are stored in the Moore Memerial Library.
Texas City Disaster Online Exhibit
---
The Grandcamp's plaque and anchor pictured below as well as the propeller are what I took around Texas City. They will always be just a part of the reminder of what took place that fateful day on April 16, 1947.
| | |
| --- | --- |
| Another anchor from Grandcamp now located at entrance to the Dike | Plaque located to left of anchor |
| | |
| --- | --- |
| Propeller from the Highflyer located at the Texas City Terminal Railway | Plaque located beneath propeller |

Texas City Volunteer Badge
Most likely Pre-Disaster dated
Shane Martin B-Shift is current owner


---
The names of the 28 Texas City Firefighters who lost thier lives when the Ship exploded.
This Plaque is located at Fire Station 2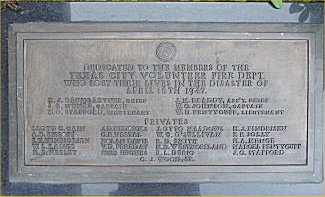 HENRY J. BAUMGARTNER
"FIRE CHIEF"

JOSEPH MILTON BRADDY
"ASS'T CHIEF"

SEBASTAIN B. NUNEZ
"CAPTAIN"

WILLIAM CARL JOHNSON
"CAPTAIN

MARSHALL B. STAFFORD
"LIEUTENANT"

WILLIAM D. PENTYCUFF
"LIEUTENANT"

"PRIVATES"

WILLIAM C. O'SULLIVAN

ROY LOUIS DURIO

MARCEL PENTYCUFF

ARCHIE BOYCE EMSOFF

HARVEY ALONZO MENGE

HENRY JOHN FINDEISEN

JIMMY REDDICKS

VIRGIL D. FEREDAY

ROBERT DEE SMITH

EDWARD HENRY HENRICKSEN

JOEL CLIFTON STAFFORD

WILLIAM FRED HUGHES

MAURICE R. NEELY

LLOYD GEORGE CAIN

MARION D. WESTMORELAND

FRANK P. JOLLY

CLARENCE J. WOOD

WILLIAM LOUIS KAISER

CLARENCE ROME VESTAL

JACOB OTTO MEADOWS
Lest We Forget
Those Dead and Missing As a Result of the Disaster of April 16, 1947


Chief Baumgartner
Click picture for larger view
These are 2 badges that belonged to Chief Baumgartner. They are now back with the family of Michael Baumgertner. Michael is Chief Baumgartners Grandson.
---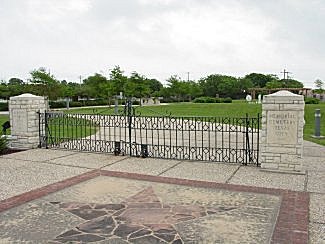 Through these gates you will see more plaques in dedication to the victims of the blast.
Click gates to enter.

---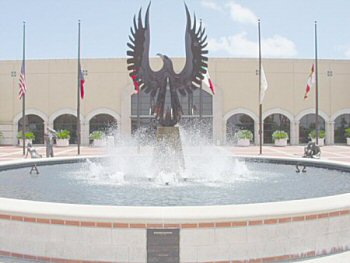 ---
Personal Experience of Jim Bell, Patrolman, Texas City Police Department
Please click above for story
All information for this story was obtained from the Moore Memorial Public Library, Texas City.
"We Were There"
In 1997, the City of Texas City, both the elected leadership and volunteer citizens, planned to observe the Fifthieth Anniversary of the Texas City Disaster in a meaningful way that would both commemorate the event and celebrate the City's recovery and progress over the past fifty years. One aspect of that multi-faceted commemoration involved the collection of personal experiences from living survivors.
It was initially thought that perhaps two to three hundred stories might be recieved and that each story could be included in its entirety. In fact, over eight hundred stories were collected. Most were handwritten by the survivor or told to a friend or family member. Others took the form of an oral history project. This book is a compilation of those stories. It is not meant to be a scholarly work, but a collection of personal reminiscences.
Due to the large number of stories recieved, it was reluctantly determined that the stories must be edited for length if all were to be included. In the process, every effort was made to preserve the essential content of each story and the words of the writer. The original, unedited stories are on file in the Mainland Museum of Texas City, available to all who might wish to see them.
Although some of the material may appear inconsistent or inaccurate in detail, each account is personal, told from an individual point of view and frame of reference. And so, this book is more about hearts and feelings and lives than it is about history, and tells the story in a way in which it has never been told before. These accounts from the 1947 disaster in Texas City present a wide range of experiences. They are now memories filtered through years of time, with points of view colored by each person's thoughts and emotional reactions. Therefore it is appropriate to begin with a brief, historical narrative outlining the events leading up to the disaster, the explosions themselves, and the relief efforts afterwards so that the reader might have a setting against which these hundreds of small dramas could be played. (the story above with pictures) Perhaps some reader in future years may not know about Texas City, or what happened there. It is for that reader that this brief background and the section on the Rebirth celebration are included.
Most of all, taken in its entirety, this is the story of the triumph of the human spirit over seemingly limitless catastrophe.
I will change the stories out once a month so as to show all the different and unique stories.
BIEGERT, LYDIA EISENHAUER

I had spent three years working in John Sealy Hospital's emergency room, but it didn;t prepare me for the realities of the Texas City Disaster. We had inadequate supplies and before long limited amounts of anesthetics. It was my day off, and someone said Texas City had an explosion. Anyone not assigned to duty that day was to dona uniform and report for further assignment. I dressed, skipped breakfast and dahsed to the step of "Old Red."
A senior physician loaded several medical students and me into his car and raced acrossed the causeway.
We drove by burning storage tanks while smoke-blackened men in hard hats battles the flames along the road.
It was like newsreel shown of European cities during World War II. We drove down 6th Street and stopped at different clinics and first aid stations. At each stop a medical student got out.
My turn came at Beeler-Mankse Clinic. I was assigned to a small operating room, where tonsils and adenoids were done. At least those were the type of instruments a senior medical student and I had to work with in there. Our patients were young children from a nearby school who had cuts from flying glass. We cleaned, sutured and bandaged, without benefit of anesthetic, a never ending stream of injured children. Most of them were conscious, but I don;t recall any of them crying. Eventually, we were evicted when a really serious injured adult male was placed on the table and "real" doctors and nurses took over.
That was the last of my dealings with disaster victims, but April 16, 1947, like December 7, 1941, is engraved in my memory.

BIGGS, GEORGE L.

My parents, George and Doris, were taking me for an eye exam and new glasses. Dad showed us the orange glow over the docks from our dining room window. He had worked there prior to working at the tin smelter and said we might have to drive by to see what was happening. Mother said we didn't have time. Sister Bonnie Jean was at school. My mother, brothers, Luckie and Paul, Dad and I were enroute to Galveston on 6th Street near 9th Avenue when the exposion occurred. Dad said it felt like someone had slapped him in the face as hard as they could. He put us out and told us to run home and wait for him while he got Bonnie.
There was an odor in the air. While working at Monsanto years later, I smelled that same odor again around the styrene unit. When we reached our home on 19th Avenue, people were running through the prairie in front of our home, fleeing the fires. We all believed the city was going to blow up. My grandparenst met us at our house, and when Dad and Bonnie returned, we all left for Dickinson, but Dad would not go with us. He said he had to go to the docks to help.
He came to get us that evening at the Catholic Church, which gave refuge to all who needed it. We went back home to straighten things up. We heard a police car loudspeaker warning everyone to leave Texas City. Another ship explosion was imminent. Dad kept on hammering. A policeman came to our front door for the second time and stayed until we left.
We went back to Dickinson church. Dad slept for awhile, then returned to the docks to help out.
Next morning the Army took us to Camp Wallace, fed us and took care of our needs. After afew days, Dad took us home. Our family of relatives were very fortunate, as we suffered no deaths and only minor injuries.
We lost some good neighbors, friends and fellow townsmen.
Click below to read past stories that were posted.
Past Stories
---
I have added a whole new page of pictures that were loaned to me for this site. Please click below to view more pictures of the disaster taken when the Houston Fire Department came into town to help.
---
Click here to see the 57th Disaster Memorial Service held on April 16, 2004
---
---
There are three excellent books out on The Texas City Disaster. Please click below for information on these books.
---
The History Channel periodically runs the story of the Disaster titled "Wrath of God: Texas City Explosions." You can click HERE to purchase the video. If you want to see what happened on that fateful day back in 1947 this is a must see video.
---
---
---
This page is in memory of all those that lost their lives during the Disaster, the Firefighters who fought in vain to extinguish the fire, the Grand Camp's Crewmembers who never made it home, the people of Texas City that went down to look at the beautiful orange smoke against a clear blue sky only to find tragedy and death, the family members who lost their loved ones, the survivors who with courage and determination rebuilt a city that was virtually destroyed and for those who wish to learn about what happened so we will never forget.
..........................................................................................Mark Pandanell
Many thanks to Suzie Moncla at the Moore Memorial Library for all her help.
This page was created by Mark Pandanell of the Texas City Fire Department.
If anyone has any information or photos not seen here please contact me at the Email below.