RESTORATION OF FIRE HYDRANTS
I have been a Firefighter for 14 years. I am married to a wonderful wife and have 2 daughters, one 7 and one 15. My wife loves collecting fire items just as much as I do. She has found some rare finds in our collection that continues to grow. You can see part of the fire collection here as I still have many more pics to take of it.
I was in the Navy from 1986 to 1992. I did a 6 month deployment in the Persian Gulf during the Iran vs Iraq War and then a 9 month deployment during Desert Storm. After 6 years in the Navy I decided to become a Firefighter. After I was discharged, I came home and was hired on by Texas City Fire.
I started collecting anything related to the Fire Service at first. Then I came upon a hydrant from the City. The hydrants I have now all came from Texas City. When I come across one I have already, I give it to other firefighters that collect them.

Since I came across FireHydrant.org I have learned so much more about hydrants and how to locate them. I now see a fun challenge ahead of me in finding more hydrants and restoring them.
I have recieved a few Emails asking about the Ospho product I use. Here is a little info on it. Remember if you use this product try and keep it off your skin as it will burn. I highly recommend wearing rubber gloves when using this product. It is a thin liquid and a little goes a long ways.
HOW SKYCO OSPHO WORKS
When applied to rusted surfaces, it resists/retards rust in chemical change on drying to a tough, hard surface ready for priming. A paint job will last longer after an application of OSPHO because subsequent paint coating securely attaches itself so that moisture and oxygen normally do not attack the metal. OSPHO is water-thin, can cover a larger area than paint, and goes on easily. It is equally effective for exterior and interior work alike. SKYCO OSPHO: a balanced formula of Phosphoric, Dichromate, Wetting Agents and Extenders . . . compounded exclusively by the Skybryte Company since 1947 ... recommended by paint manufacturers.
Just type in a Search Engine the name and you will get tons of info on this product and where to purchase it. A gallon will last a very long time. Pour a small amount into a small container and do not pour the left over portion back into the main container. It will react with the rest of the product as you have been contaminating the small amount you have been using with your dirty brush. This is why you should only pour small amounts out of the bottle until you get used to gauging how much will go how far.
I use this stuff on everything that has rust and living down here on the Gulf Coast, there is not a shortage of it! (The rust that is. hehe)
This first one I restored a few years back.
It is a 1943 Waterous
This hydrant I documented the restoration. It is a 1905 Michigan Brass & Iron Works.
I took it completely apart to restore it from the inside out.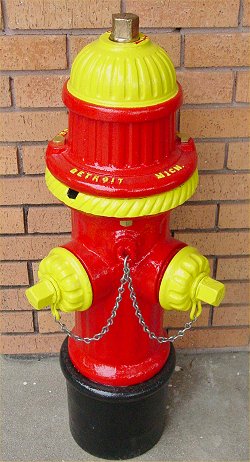 Click on the hydrant to see the restoration process!
1943 Waterous

This one I turned into a fountain by capping the bottom and drilling small holes in the top of the brass threads. When water is supplied it leaks at each barrel. I will restore this one and the put a recirculating pump in it. It will sit in my front yard as a leaking hydrant. I will have pics of the whole process soon.

1992 American Darling Valve
UL Listed 5330 Dry for firemain hydrant
5 1/4
884B
Beaumont Texas
Update: Brian Dougan, President of PollardWater has contacted me about the wrench. He said it is most likely from the 1970's. The older models did not have any "hook" on em, just the "hole" for the pin couplings.

Thanks Brian!

I have found the company. They are named PollardWater, I found them at
200 Atlantic Ave.
New Hyde Park, NY

The company is listed under Joseph G. Pollard Co., Inc

www.pollardwater.com
Click on Banner below for a great Website on Hydrants!

Click here to see my Fire Collection
Here is a great link to an interactive fire hydrant
Powered by
counter.bloke.com